Once on the verge of demolition, this beautiful house was saved from the wrecker's ball largely through the efforts of George Burke, the current resident of the historic property. The Seguine-Burke Mansion holds a special place in the roster of architecturally significant structures on Staten Island.
In landmarking the site, the Landmarks Preservation Commission noted that the this two and one-half story structure "has retained its original grandeur and, in the character and setting, is reminiscent of antebellum mansions of the Deep South." The American Institute of Architects has noted the Southern-style grandeur of the buildings and its splendid setting.
The House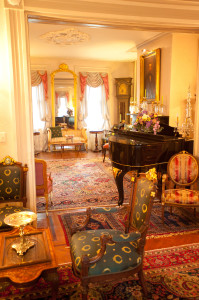 The eighteen-room mansion is a monument to the Greek Revival period of architecture and to a grand way of life now a part of Staten Island's history. This sophisticated county house is located on the highest point of the Seguine family's ancestral farm. On the grand facade facing the water, six monumental square columns support a second-floor gallery and classical pediment with a sweeping fanlight. A wide, sloping lawn opens a broad vista to the bay.
Inside the house, Greek Revival mantels and plasterwork grace the spacious rooms, all of which feature tall windows and doors to circulate cool ocean breezes throughout the house. The Mansion features a verandah, entry foyer, front parlor, rear parlor, dining room and library on the first floor, as well as private rooms on the second floor. In keeping with the Greek Revival emphasis on symmetry, each of the eight main rooms of the House has three windows, three doors, and a fireplace. The house, built before central heating, includes nine working fireplaces.
The Grounds
The Estate is located on Lemon Creek, an 80-acre park of City and State-owned lands that have been left largely in a natural state. The park encompasses freshwater wetlands, tidal wetlands, a marina and a picnic area. A colony of purple martins–a species of swallow that winters in South America and returns each summer to breed in Staten Island–has been maintained there since 1953.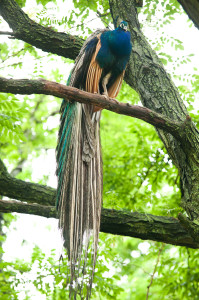 Large, rough-barked trees grow along one side of Seguine Avenue. These are Osage oranges (Maclura pomifera), most likely planted by Frederick Law Olmsted, who landscaped the Seguine Mansion property in the 19th century. Some of these trees are quite large and over 100 years old. In fall they produce a large, green, inedible, wrinkled brain-like fruit with the nickname "hedge apples." The dense shrubbery is often called "living fence."
The beautiful landscaped grounds of the home to a pride of peacocks and a variety of other birds and wildlife, as well as the Seguine Equestrian Center (closed), which is located on 10 scenic acres surrounding the Mansion.
Thanks to Bart Bland, Edward Johnson and Patricia Salmon of the Staten Island Museum for compiling some of this research.
Thanks to Tom Weis Photography for creating these beautiful images of the Mansion.